If you're anything like me, you are so over the assault winter had on your hair skin and nails. I know what you are thinking, "not another beauty oil review," but grab a cup of tea and scoot a little closer so I can tell you why I love this so much.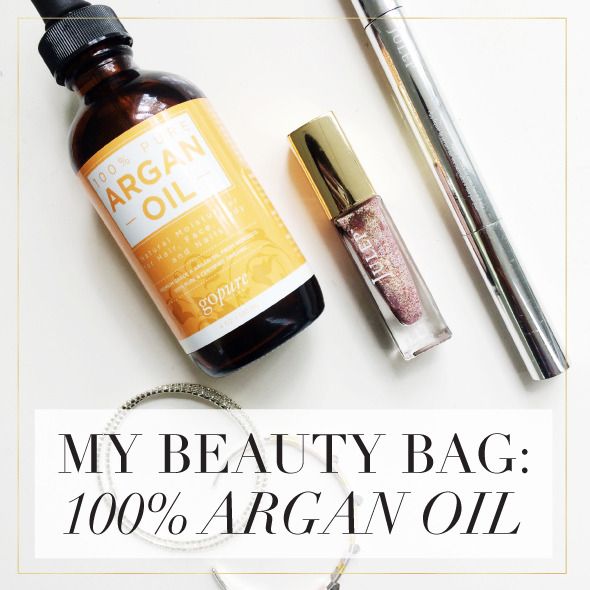 So, I wear my hair in a protective style and after taking it out, it was oh so so so dry. One part heredity and two parts neglect. (I know!!! terrible!) I was lucky enough to be given a chance to try out Argan Oil by goPure
and I jumped (nearly out of my chair) at the chance. I had wanted to try argan oil for a while, but I didn't know much about it (and honestly was afraid it would smell terrible).
According to GoPure, its 100% argan oil is
"liquid gold," and one of nature's most effective moisturizers. Yielded from the kernels of the argan tree, a plant that is native to Morocco, argan oil offers many beneficial nutrients.
Gentle enough for sensitive skin, argan oil absorbs quickly without leaving behind a greasy or sticky residue. It can be used all over the body, including the delicate skin of the face and neck.
Hellooooo! 4 ounces of vitamin E packed, skin-loving fatty acid, sun damage skin-cancer fighting 100% organic cold-pressed goodness all for little ole me? Yes please.

It arrived at the house super fast. Check! The bottle came with a dropper for easy application and nicely packaged with no strong oder. Double check. My dry cuticles drank it up while I massaged a 4 or 5 drops on my scalp and hair right away. Instant softness. Yep! Think Brillo pad turns to cashmere. By the next morning the oil had turned these parched tresses into a soft detangled fro. Hollaaaaaa! Now, I have used beauty oils before (some ranging from super inexpensive-$6 to pretty pricey-over $75 eek!!) for oil cleansing and moisturizing my complexion so I am no stranger to oils. The real test was going to be my Mexico trip. I mixed the oil with my sunscreen and it gave my skin a nice healthy glow and it didn't spill in my travel bag. Hoooray!!! I think for $16 bucks, this delivers a pretty powerful punch.
I love sharing my fab finds with you all. Please do let me know if you try this. I would love to know what you think of it.
*This post is kindly sponsored by GoPure and contains affiliate links. All opinions are completely own. Although, I received the product for free, I carefully considered this product before reviewing it. Thank you for supporting the brands who support this blog!